Jump to content
Oodgeroo Noonuccal (Kath Walker)
(1920 to 1993)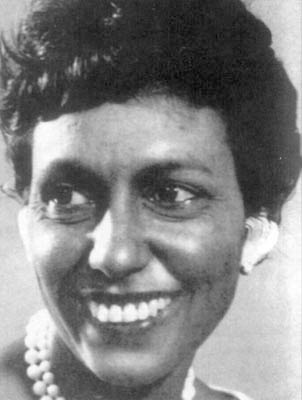 Source: Smoke Signals, August 1963
In the 1960s Oodgeroo, then Kath Walker, poet, activist and public speaker - articulated the feelings of Aboriginal people for the rest of Australia in a way that they had not heard before.
Her advocacy began in the Queensland Council for the Advancement of Aborigines and Torres Strait Islanders. Kathleen Ruska had grown up with her family on North Stradbroke Island and had worked as a domestic through the Depression. Joining the Australian Women's Army Service in 1941 was a positive experience for her; she was accepted without prejudice and learned new skills.
Kath Walker joined the Communist Party of Australia at a time when it was the only party that was vocal in its opposition to racial discrimination. She remained a member for only a short while, being conscious, when she became well known as an Aboriginal spokesperson, that people may unthinkingly follow her lead. In 1958 she joined the Queensland Council for the Advancement of Aborigines and Torres Strait Islanders, where she met white activists who were working for civil rights for Aboriginal Queenslanders at a time when the Queensland Aborigines Preservation and Protection Act gave total control to managers of Aboriginal reserves.
Kath attended the Federal Council for Aboriginal Advancement (FCAA) annual conferences from 1960, becoming the first Queensland state secretary in 1962. At the 1962 annual conference in Adelaide she read her 'Aboriginal Charter of Rights' and in 1964 her first collection of poems We are Going was published by Jacaranda Press. It was reprinted six times over the next twelve months.
Kath's political philosophy changed markedly when she attended a World Council of Churches consultation on racism in London in 1968. Prior to this meeting, Kath had seen Aboriginal disadvantage in class terms and had seen the racial coalition provided by the Federal Council for the Advancement of Aborigines and Torres Strait Islanders (FCAATSI) as the most effective political approach to reform of laws and attitudes.
Her London experience put the Australian situation into an international context for her. She rejected the coalition politics she had previously espoused, arguing instead for Aboriginal people to become a unified and solid fighting force before they entered into coalitions with whites. Kath supported the 1970 Pittock amendments to the FCAATSI constitution which would have increased Indigenous power on the Federal Council. When the amendments failed she was instrumental in supporting, with Doug Nicholls, the establishment of the National Tribal Council.
While she remained politically active, Kath's priorities in the 1970s and 1980s when she returned to her beloved Stradbroke Island were art (her writing as well as the visual arts) and education. At this time she changed her name to Oodgeroo Noonuccal, recognising her Noonuccal ancestors whose land she had returned to. She established Moongalba as a cultural and educational centre on the island. Here thousands of Aboriginal and white people came to learn about Aboriginal culture. In 1983 she was awarded an MBE. She worked for a treaty between Black and White Australians and, until her death, was engaged in activities to right injustice from the community level of Stradbroke Island to the national level. Oodgeroo believed passionately in the power of education to reform an unjust world.
Entries on Rodney Hall and Alan Duncan both include memories of Oodgeroo Noonuccal.
Further reading
Kathie Cochrane, Oodgeroo, University of Queensland Press, Brisbane, 1994
Oodergoo Noonuccal, Stradbroke Dreamtime, Angus & Robertson, Sydney, 1993 (children's book)
Kath Walker, We are Going, Jacaranda, Brisbane, 1964
Kath Walker, My People, Jacaranda, Brisbane, 1970